Twitter is dead! Long live X.com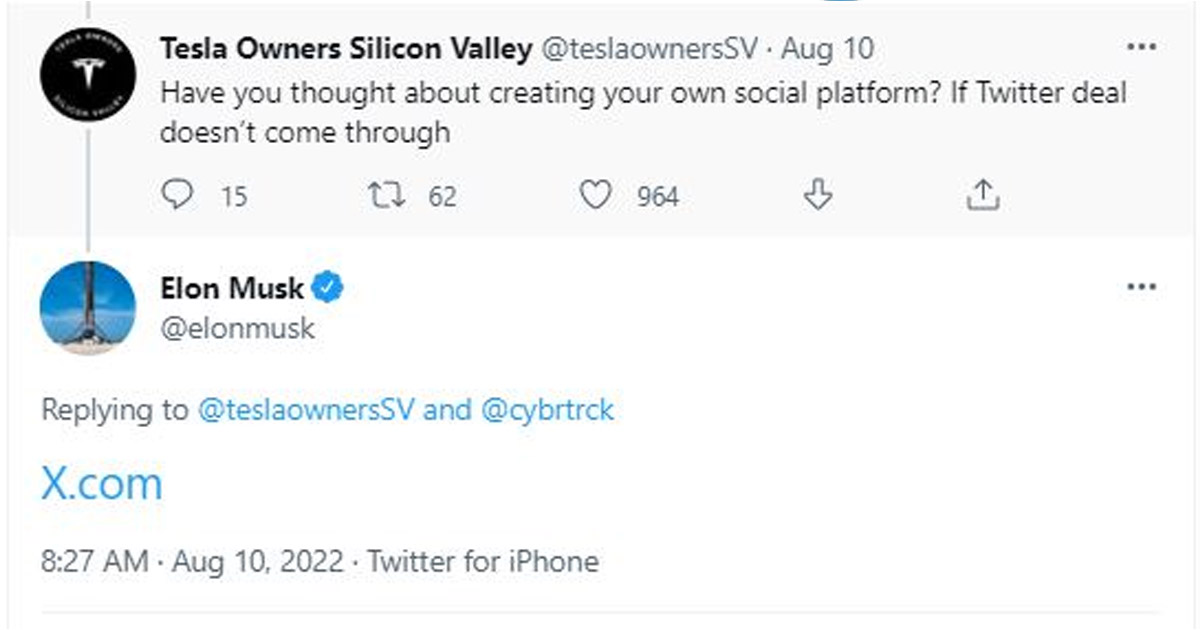 I believe this is the spark that will trigger a chain reaction in social media and some disruption in the financial systems and the power distribution between actors in advertising/social media.
Crushing the inequality between left and right wings "Twitter has admitted it amplifies more tweets from rightwing politicians and news outlets than content from leftwing sources.", leveling the power that the advertisers have to control the public's speech, this move could be a turning point for social media as we know it with indirect changes to our society.
Some context:

"In China you do everything in WeChat… it's kick ass…outside of China there's nothing like it" - 1. buy Twitter, 2. copy WeChat
during the 2022 Annual Meeting of Stockholders: "I do sort of have a grander vision for what I thought X.com or X Corporation could have been back in the day. It's a pretty grand vision, and now obviously that could be started from scratch, but I think Twitter could help accelerate that by three to five years. It's something I thought could be quite useful for a long time. I know what to do. Don't have to have Twitter for that, but like I said, it's probably at least a three year accelerant. I think it's something that will be very useful to the world."
Elon announced the deal in his personal way, entering Twitter HQ with a sink: let that sink in!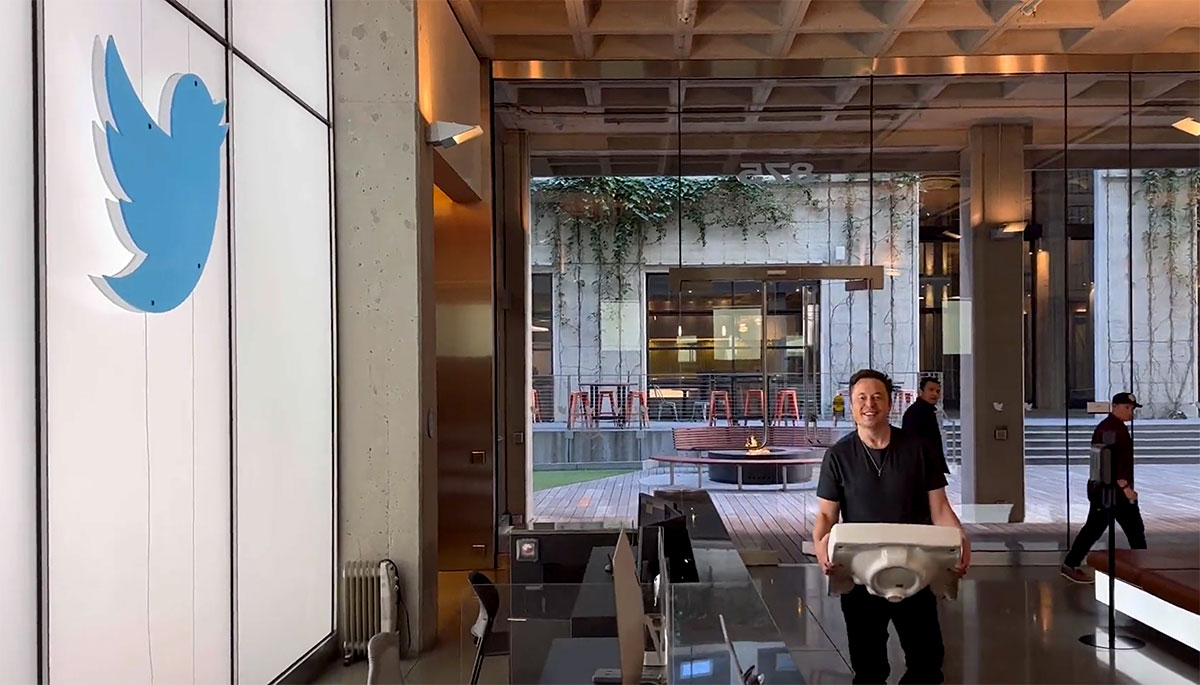 In the pitch deck sent to investors the plan is to lower the reliance on advertising to less than 50% of revenue. Along with the plan to "Quintuple revenue to $26.4 billion by 2028".
I would see a couple of things that can be done:
looking into alternative channels for advertising, going after Youtube supremacy for video content: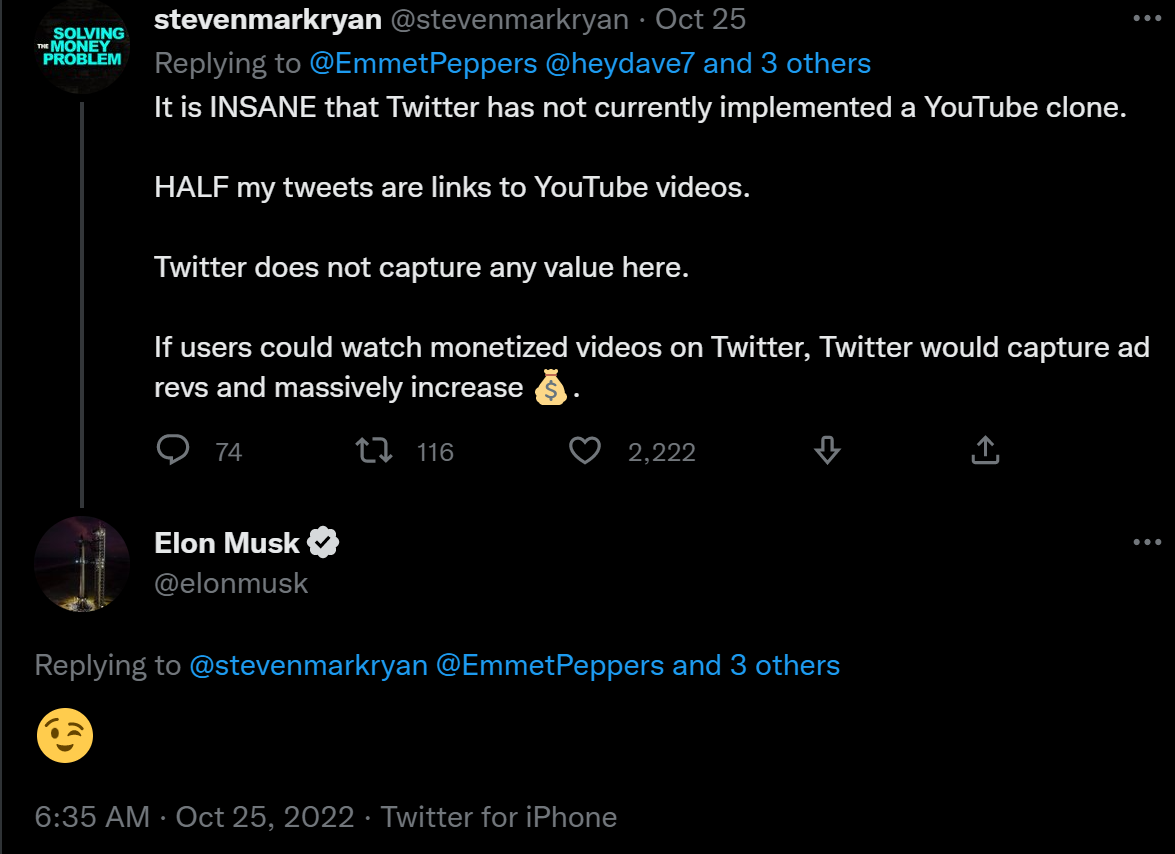 cloning WeChat. Implementing an identity system, possible based on a subscription. Verified accounts would be able to access optional services, a payment platform, discounted plans on Tesla platform. To be seen if the Internet is ready for it this time as previous tries from Google and Facebook resulted in a crash and burn.
a payments and transactions platform that can grow globally to a volume of Trillions.
If we look at what Tesla is doing with their insurance service we can easily see it as a "beta" service that can be scaled up globally. Currently in limited access, it provides a cost reduction of 30 to 50% compared to the traditional insurers. In a market that is projected to reach one trillion $ the potential volume in 2021 with 302.000 cars sold (US) was around 362 million $. Add this to the exponential growth rate of cars sold and there you have some billions.
Tesla financial services can be consolidated under just one entity avoiding third-parties. In Q3-2022 the revenue from leasing was around 621 millions.
Twitter subscription for verified accounts. Twitter has 206 million daily active users and 38 million users in the United States. Let's say that half are bots and round the users at 100 million. Maybe half will pay the subscription. 50 million users * 3-5$/month for the basic subscription and there are 2-3 billions per year from this new type of revenue.
Tesla energy. Selling solar roofs and powerwalls through the payment platform while in the same time taking a commission for providing energy using the micro-grids and virtual power plants.
Robo-taxis fleet. Uber's gross bookings reached an all-time high of $29.1 billion. Another opportunity to tap into the money transactions.
PayPal alternative. It is almost unbelievable that there is nothing like PayPal from the traditional banks. The whole electronic payment process seems to get harder and harder. Yes PSD2 - I am looking at you. How would you think that asking for complex authentication and contactless limits are helping the adoption? PayPal's total payment volume amounted to USD 323 billion.
A "curated" audience for advertisers. The current model is broken. Tesla is a leader in Artificial Intelligence and data analytics. Link this to the pool of verified users and you have an audience that is not available anywhere else. Everyone is selling CPMs with poor conversions. The new platform will be able to ask more for conversions that will blow advertiser's minds. This is a win-win situation as users will be targeted for what they actually want and advertisers will not pay anymore for serving ads to the wrong audience.
Selling products. Tesla products, supercharger services, Neuralink devices, Starlink subscriptions, Tesla bot, Boring Company trips and so on.
The total volume of the transactions that could happen on the platform is astonishing and quite hard to comprehend while the revenue could be counted with a T. Trillions.
Cutting costs. Elon and the teams at Tesla, Space X and the rest are the best at optimizing code and operational expenses.
Let's not forget that Elon disrupted all the industries he joined.
All of the above plus asking for transparency and no censorship while bringing better services for the society. "The reason I acquired Twitter is because it is important to the future of civilization to have a common digital town square, where a wide range of beliefs can be debated in a healthy manner, without resorting to violence," Musk wrote in a tweet.
Elon also said that Twitter will have a content moderation council with widely diverse viewpoints. I would expect that this is what people want but, somehow triggers them to declare they will leave Twitter. If you dare to ask why they will be unable to provide an answer. This is just another evidence of "I want the right thing but, only if it is same as I wish".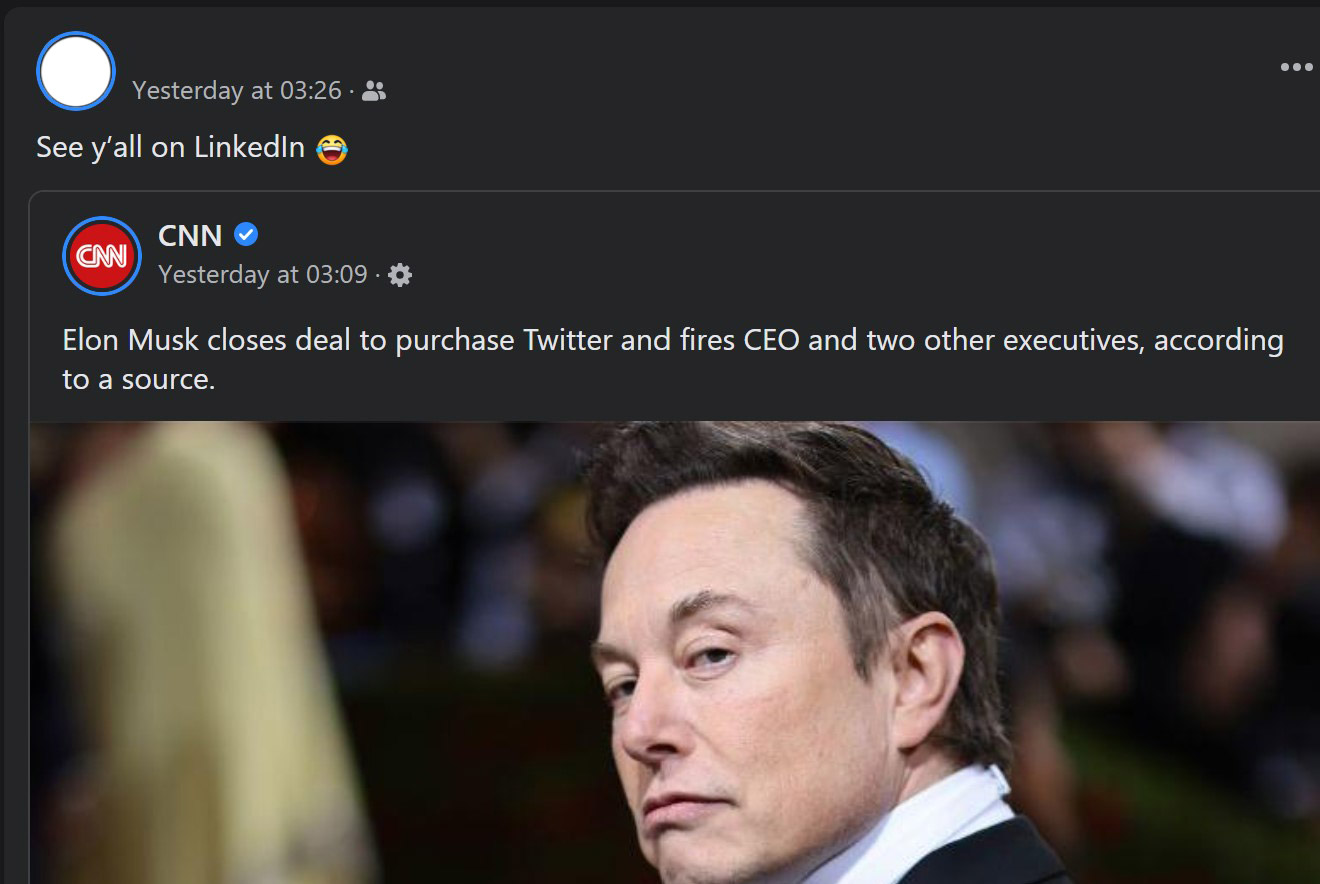 Until proven wrong this is the first and the only step towards more transparency and giving back the public's speech agenda to the society.